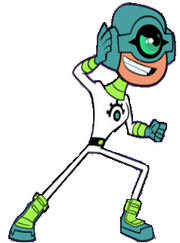 "Fine! I'm going to class then!" ~ See-More(Note: He's a TTG character! In my series he's a fifth grader, but he is the same size and the same voice)
Personally
Edit
He's really a white lier! Somehow he hates Cyborg!
Relationships
Edit
He is in love with her! You know how in the original teen titans where He loves Jinx, we try to bring that back in little elementary!
You guessed it they both hate each other! He didn't like Cyborg in the first place, and the hate thing is unknown!
He is in two gangs Gizmo's gang and Their Gang!
In Loser Force HIVE he licks one of his fingers then puts in on Billy!
List of friends
Edit
Gizmo
Jinx (girlfriend)
Mammoth
Billy
Velvet
Sweetie
Ad blocker interference detected!
Wikia is a free-to-use site that makes money from advertising. We have a modified experience for viewers using ad blockers

Wikia is not accessible if you've made further modifications. Remove the custom ad blocker rule(s) and the page will load as expected.