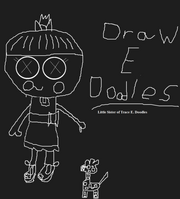 "Doodles don't be shy, it's just some kids." ~ Draw
Personally
Edit
She is a sweet and nice girl! She also helps out people with homework!
Relationships
Edit
She and Doodles are best friends! She teaches Doodles some cool things!
She can get serious sometimes like this person here!
Ad blocker interference detected!
Wikia is a free-to-use site that makes money from advertising. We have a modified experience for viewers using ad blockers

Wikia is not accessible if you've made further modifications. Remove the custom ad blocker rule(s) and the page will load as expected.